Home of country music, hot chicken, and Tennessee pinball tournaments! That's right, folks, the state has become a haven for pinball enthusiasts.
Pinball has been a popular pastime for decades, with enthusiasts of all ages flocking to arcades and bars to test their skills. With a thriving pinball scene, Tennessee has been hosting competitive pinball tournaments left and right. These events offer a chance for players to show off their skills and compete against the best pinball wizards in the game.
But what is competitive pinball, you ask? It's a whole new level of pinball, where players use every trick in the book to rack up the highest score possible. Think precision aiming, strategic nudging, and all without going on tilt. It's a thrilling and exciting game that will keep you on the edge of your seat.
Pinball Tournaments in Tennessee
Tennessee has become a hot spot for these tournaments, with cities like Nashville and Memphis hosting some of the biggest pinball showdowns in the state. These tournaments attract players from all across the region, vying for the chance to become the next IFPA state pinball champion.
So if you're a pinball enthusiast looking for a new challenge, or just a casual player looking to have some fun, check out one of the many pinball tournaments happening in the state. Who knows, you might just discover a new passion for competitive pinball and become the next world champion pinball player!

Here's the list of Tennessee's best tournaments ranked by IFPA WPPR Points.
Music City Multicon / Grand OGRE – Lebanon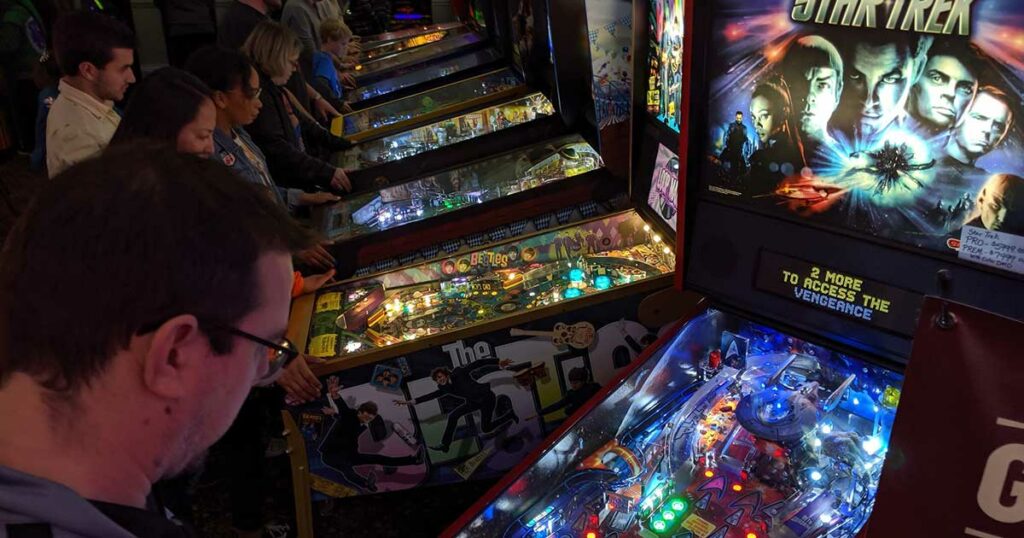 Music City Multicon Pinball Tournaments
Frequency: Annual
Format: Matchplay
WPPR Points: ~40
Cost: $40 Entry + Multicon Ticket
The Music City Multi Con is Nashville's biggest annual convention for gaming, comics, cosplay, and pop culture. It will be held over three days from October 27-29, 2023, at the Farm Bureau Expo Center in Lebanon, TN, which spans 79,000 square feet and is open to the public.
If you're a fan of pinball, you won't want to miss out on the fun at Music City Multicon. This is home to the largest pinball tournament in Tennessee, called the Grand OGRE Pinball Tournament (named after the Grand Ole Gameroom Expo, of course). You can also check out new pinball machines from pinball dealers or play other pinball games for free, courtesy of Game Galaxy Arcade and Pixel Planet Arcade.
There are multiple IFPA sanctions tournaments during the three day convention. The main event is a matchplay tournament which awarded nearly 40 wppr points for first place. The day before the main tournament there's a three strike knockout warmup plus a target matchplay tournament the day after.
Music City Multicon Upcoming Events
Music City Multicon Location
Farm Bureau Expo Center
945 East Baddour Parkway
Lebanon, TN 37087
---
Hours of Fun – Smyrna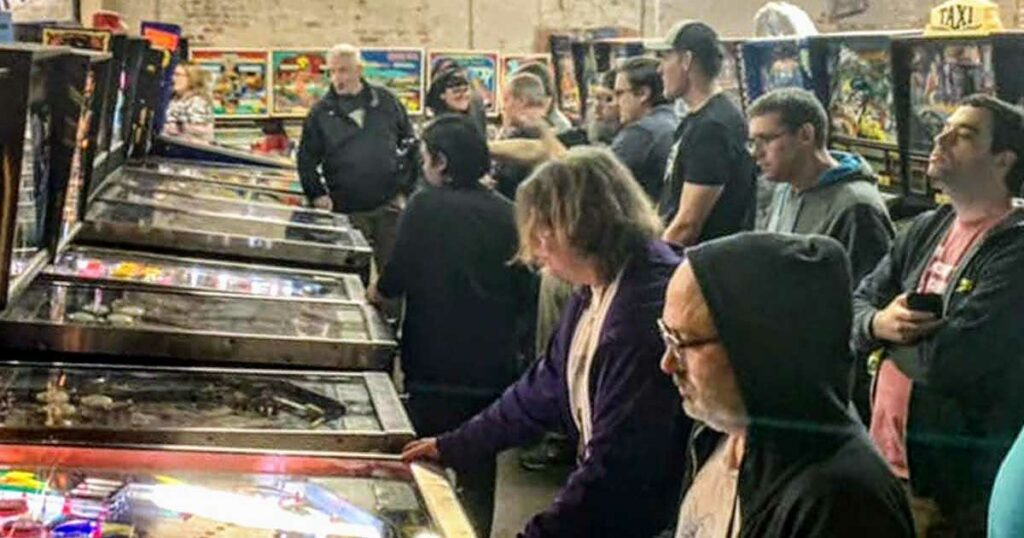 Hours of Fun Pinball Tournaments
Frequency: Quarterly
Format: Matchplay
WPPR Points: ~58
Cost: $10 Entry + $20 Cover
The Hours of Fun Tournament Series, hosted by Game Galaxy, is the latest tournament to hit Tennessee and currently holds the top spot for wppr points, with just over 58 ifpa points going the the winner. This event is particularly noteworthy for its 200% TGP grading, which gives it a significant points boost.
With 16 thrilling qualifying rounds of group match play followed by finals, the tournament definitely lives up to its name of "Hours of Fun"! The top four players will also receive cash prizes, and the tournament will exclusively feature true classic pins, so there won't be any DMDs or modern pinball machines.
Hours of Fun Upcoming Events
Hours of Fun Location
Game Galaxy Arcade
3 S Lowry St
Smyrna, TN 37167
---
No Quarter – Nashville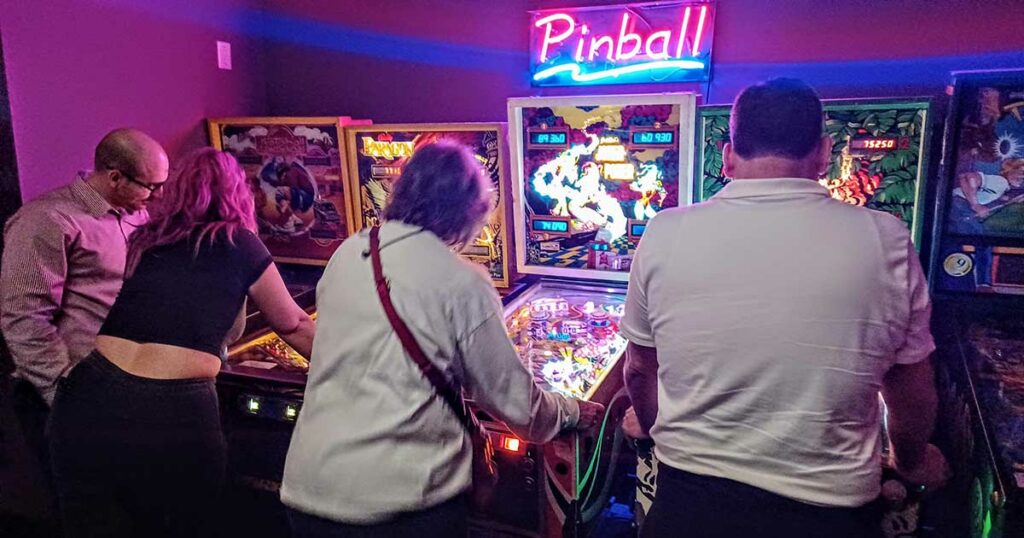 No Quarter Pinball Tournaments
Frequency: Weekly
Format: Knockout
WPPR Points: ~12-25
Cost: $5 Entry
No Quarter, a popular pinball spot in Nashville, hosts weekly three strike knockout tournaments every Wednesday night. The night begins at 7:00pm for registration and warmups before rounds being at 7:30pm. These tournaments welcome players of all skill levels, from beginners to experienced players, and offer a chance for players to show off their pinball skills and engage in friendly competition.
It's an exciting atmosphere that attracts pinball enthusiasts from across the city with some traveling from an hour or more away. With wppr points ranging from 12-25 points to the top spot, depending on number of players on any given night, it's a great event for anyone within driving distance. In addition to the weekly competition, the bar also hosts a monthly women's tournament that draws quite a crowd too.
No Quarter was host to the TN State Finals of the IFPA North American Championship Series in 2022. This is a huge achievement for the venue, as it solidifies their status as a top pinball destination in Middle Tennessee. It's a solid bet this competition is here to stay at this Stern Army location. Attendance is growing and events are planned far into the future.
No Quarter Upcoming Events
No Quarter Location
No Quarter
922 Main St
Nashville, TN 37206
---
Flip Side – Memphis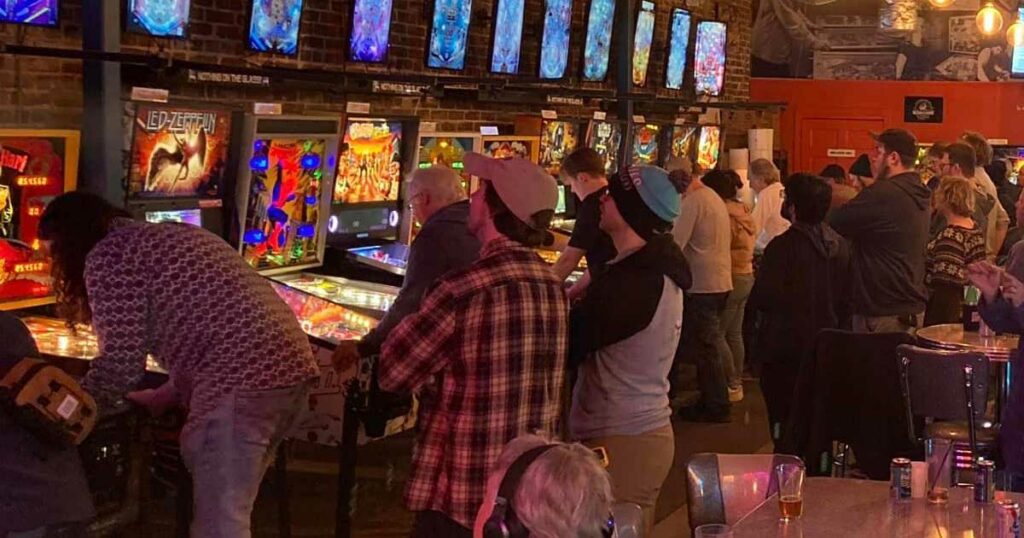 Flip Side Pinball Tournaments
Frequency: Weekly
Format: Matchplay
Located in the heart of Memphis, Flip Side Pinball Bar is a haven for pinball enthusiasts. The bar's popularity as the hub of competitive pinball in the city has grown over the years, with players from all over the region gathering to take part in the weekly and monthly tournaments.
Every Tuesday night, the bar hosts a pinball tournament that attracts a competitive crowd. The tournament is open to players of all skill levels, and the friendly atmosphere encourages both beginners and seasoned players to participate. The monthly events, sanctioned by the International Flipper Pinball Association (IFPA), are particularly popular among serious players, who come to Flip Side to test their skills against other top players from the region. They even offer a B Division for qualifying contestants.
One of the key features that sets Flip Side apart from other pinball venues in the area is the ample space for players. The bar has 16 pinball machines, each placed with plenty of space to avoid distractions. To further enhance the playing experience, each machine is equipped with fatigue matting to minimize the impact on players' feet and legs during long gaming sessions.
For those who need a break from the action, the bar's private deck outside provides a peaceful retreat with comfortable seating. Guests can take a breather while still being able to watch the ongoing tournaments on the screens above each machine.
Overall, Flip Side is a must-visit destination for pinball enthusiasts in Memphis and beyond. With its welcoming atmosphere, state-of-the-art equipment, and commitment to player comfort, it's no wonder that the bar has become a favorite among pinball aficionados in West Tennessee.
Flip Side Upcoming Events
Flip Side Location
Flip Side Pinball Bar
1349 Autumn Ave
Memphis, TN 38104
---
Game Galaxy – Smyrna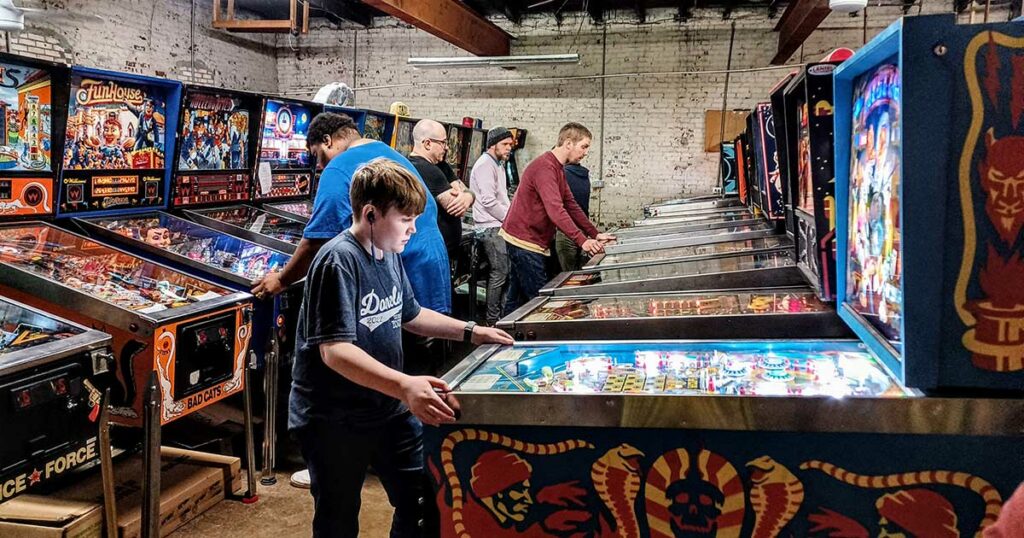 Game Galaxy Pinball Tournaments
Frequency: Weekly
Format: Matchplay
WPPR Points: ~10
Cost: $10 Entry + $10 Cover
Game Galaxy also hosts a weekly competitive event in addition to their Hours of Fun series. Tournaments are held on the 1st, 2nd, and 4th Thursday of every month, with an additional competition on the 5th Thursday when applicable. The tournaments are starting promptly at 7:30pm, and there is a $10 cover charge and $10 entry fee. The prize pool is split between the top three players in a 70/20/10 ratio.
The format for the tournaments is eight rounds of four-player matchplay, followed by semifinals and finals for the top four, six, or eight players depending on attendance. With over 170 pinball machines of all eras available for use, players can enjoy a diverse selection of games to compete on.
The last Thursday of each month is reserved for a classics only tournament. This tournament is a chance for players to showcase their skills on vintage pinball machines and compete for prizes.
Game Galaxy Weeklies offer a fun and challenging pinball experience. With a variety of machines to choose from and exciting tournaments held regularly, it's a great destination for pinball enthusiasts of all levels.
Game Galaxy Upcoming Events
Game Galaxy Location
Game Galaxy Arcade
3 S Lowry St
Smyrna, TN 37167
---
Eastside Bowl / Hot Rod Arcade – Madison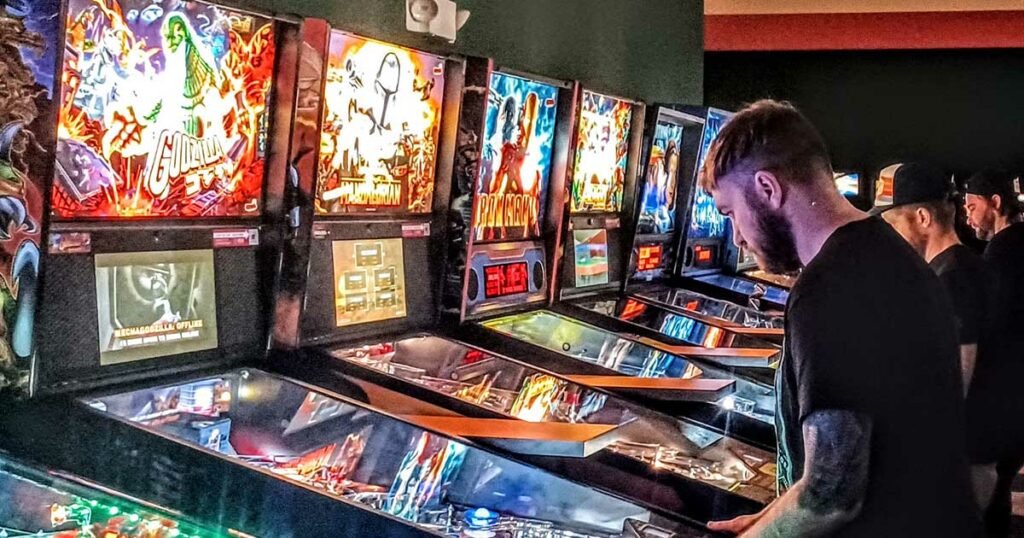 Eastside Bowl Pinball Tournaments
Frequency: Monthly
Format: Knockout / Matchplay
Eastside Bowl is a one-of-a-kind entertainment destination situated just over Nashville city limits in Madison, TN. The facility is divided into five unique sections, each tailored to specific entertainment preferences. These sections include a classic diner, a chic lounge bar, a state-of-the-art bowling alley, a music venue, and an impressive arcade.
While each section is impressive in its own right, the arcade, known as the Hot Rod Arcade, is a particular standout. With 27 top-notch pinball machines, it's a paradise for pinball enthusiasts. The machines are meticulously maintained, and the management takes pride in ensuring they're always in perfect working order. Visitors can expect to find an impressive selection of modern Stern Pinball machines, such as Bond 007, Metallica, Godzilla, and The Mandalorian to put up those high scores.
For pinball enthusiasts looking to compete, monthly tournaments are held on the 3rd Thursday every month. The format can either be group match play or knockout, depending on the number of players. Results show the number of participants has been steadily increasing with each event. The tournament starts at 7:30 PM, and there is a $20 entry fee, with the top three players receiving cash prizes. Additionally, players get to enjoy free play on tournament games and free pizza.
Eastside Bowl and it's Hot Rod Arcade provide a unique entertainment experience. With its wide variety of entertainment options and exceptional pinball arcade, it's no wonder why it has become such a popular spot in East Nashville.
Eastside Bowl Upcoming Events
Eastside Bowl Location
Eastside Bowl
1508A Gallatin Pike S
Madison, TN 37115
---
East Tennessee Pinball – Knoxville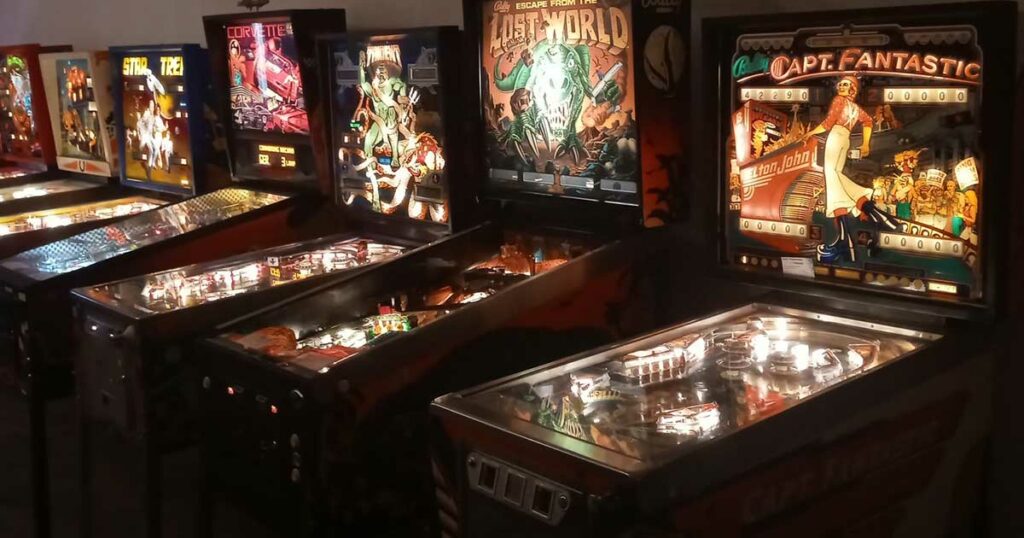 East Tennessee Pinball Tournaments
Frequency: Monthly
Format: Matchplay
East Tennessee Pinball is a premier provider of pinball machine repair and refurbishment services. They also specialize in buying, selling, and trading pinball machines. If you're in search of a specific part and ET Pinball doesn't have it in stock, they can likely acquire it for you.
They host tournaments on the third Tuesday of each month from February to December. The December Super-Event is seeded based on players' performances throughout the year. The event is group matchplay, with at least 25% or four players entering a single elimination final. Matchplay scoring follows a 7/5/3/1 format. The cost to participate is $10 per event, with games on free play.
East Tennessee Pinball's commitment to pinball repair and tournament hosting has made them a staple in the Knoxvile pinball community. Whether you're in need of a repair, looking to buy or sell a machine, or seeking friendly competition, they have you covered.
East Tennessee Pinball Upcoming Events
East Tennessee Pinball Location
East Tennessee Pinball
10523 Kingston Pike C
Knoxville, TN 37922
---
Classic Arcade Pinball Museum – Chattanooga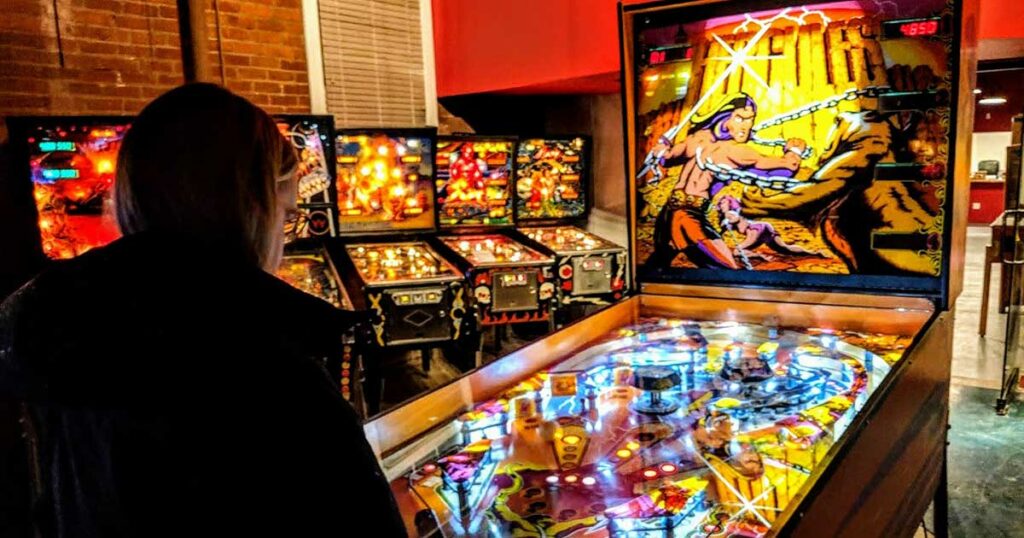 Classic Arcade Pinball Museum Tournaments
Frequency: Monthly
Format: Flip Frenzy
WPPR Points: ~1.25
Cost: $1 Entry + $20 Cover
Classic Arcade Pinball Museum is a must-visit destination in downtown Chattanooga. The museum takes you back in time with a vast collection of games from past decades, all set up and ready for you to enjoy for as long as you like without worrying about running out of coins. You only pay admission once, and then you can play to your heart's content all day long.
This retro arcade hosts regular monthly events. The format for these events is an hour and a half of Flip Frenzy, where players compete to achieve the highest score. The cost to enter the tournament is museum admission plus $1 for IFPA fees, making it accessible for all ages and skill levels. In addition the are also currently hosting league play.
The Chattanooga Pinball Museum at Classic Arcade is an excellent destination for anyone looking for a fun and unique experience in the heart of downtown Chattanooga. With its extensive collection of classic arcade games and regular competitive events, it's no wonder why it has become a favorite among locals and visitors alike.
Classic Arcade Pinball Museum Upcoming Events
Classic Arcade Pinball Museum Location
Classic Arcade Pinball Museum
409 Broad St
Chattanooga, TN 37402
---
I hope you're feeling excited about all the great tournaments Tennessee has to offer. Whether you're a pro or a newbie, there's a competition that will fit your style. And with events happening all over the state, you're sure to find one that's convenient for you.
From the weekly games in Memphis and Nashville to the monthly showdowns in Chattanooga and Knoxville, there's no shortage of opportunities to test your skills and meet some fellow pinball enthusiasts. And with so many different venues and formats, you'll get to experience a variety of fun and challenging atmospheres.
To view all pinball events currently scheduled in TN, check our state calendar.
So why not start planning your pinball road trip now? We can't wait to see you join in on the pinball fun and become a part of our awesome community. With this ultimate guide to the best Tennessee pinball tournaments, you'll be in the know about all the must-visit events.